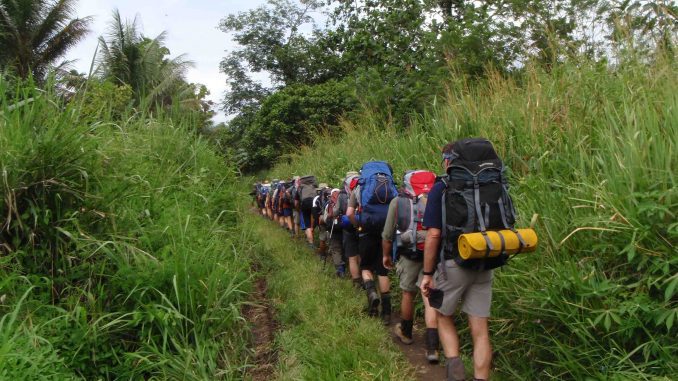 Trekking the Kokoda Track can look to be the same with every single company on the Track, and there's over 20 of us. How do you determine which company to go with?
We have 36+ years experience taking small groups trekking around the world and have been trekking on the Kokoda Track since 2002. With all this experience, we've got a pretty good idea about how Kokoda should be done and what key things to look out for when choosing a trekking company.
They take care of their local guides and staff
The local crew and guides are absolutely imperative to any Kokoda trek. They provide essential support to our trekkers on the Kokoda Track, making sure their adventure is as safe and enjoyable as possible. They cook your meals, carry your gear and ensure your safety across the entire Track and all water crossings. In short, they are amazing. Make sure you choose a company that takes care of their local guides.
We pay our guides well above the recommended pay rate from the Kokoda Track Authority (KTA). We provide our regular guides with a uniform, sleeping mats, blankets and a Medical Kit along with all meals and camp fees on the Track and travel allowance. Our policy regarding pack weight for our local guides is a maximum of 18kgs. We are also one of only two companies who respect the Sabbath along the Kokoda Track. The majority of the villages along the Kokoda Track are Seventh Day Adventists and observe the Sabbath on Saturdays, where they do not work and instead go to church and spend time with their families. At their request, we do not trek on this day to show respect for their beliefs.
They are invested in the sustainable economic growth of the Kokoda Track
While a lot of Aussies often see the Kokoda Track as a key war site and a tourist destination, it's easy to forget that the Kokoda Corridor is home to the locals who use the track every day to conduct their lives. Many of these villages benefit from the trekkers passing through, but it is important to choose a company who invests in the local community in a sustainable way that will have long term benefits. The effects of over-tourism can be felt right across the world, and it would be a shame to see the same happen in Papua New Guinea.
From 2020, in collaboration with the Kokoda Track Foundation (KTF) and our trekkers, we will be contributing to the operation of the Naduri Medical Centre, which also provides an outreach service to Naduri Village and surrounding areas. Over the last seven years, we have also provided additional employment opportunities to locals from outlying villages and up into the mountains. Through these employment opportunities, over 211,000 Kina (about AUD$89,000) has been reinvested back into some of the more remote communities of the Kokoda Track.
Safety is their main priority
While the Kokoda Track is not inherently unsafe due to steep terrain, unpredictable weather and track conditions, there are always risks when trekking in the remote wilderness jungle anywhere in the world. Choose a company who has safety as its key priority throughout your whole Kokoda Track experience. Fast is not always the best – especially if you are not used to the humid, slippery conditions along the track. Safety is certainly not the area to be cutting corners!
Our trek has been designed with our 36+ years of experience trekking the world. We have perfected it over the 18 years we have been trekking the Kokoda Track. Our 9-day trekking itinerary is designed with daily trekking targets that are achievable for all fitness levels and will have you arriving at your camp during daylight. The majority of our treks are North to South, giving trekkers two and a half days to acclimatise to the humid conditions of Papua New Guinea. Our local management team are well trained in conducting safe river crossings and other key safety essentials and contingency plans on the Kokoda Track. Our Australian Trek Leaders are Remote First Aid trained and carry a satellite phone in the event of an emergency, which has contact with our head office in Brisbane, insurance companies and an Australian Medical Doctor who is available 24/7.  We collect you from the airport in Port Moresby and return you to the airport at the end of your trek, ensuring your safety during your entire adventure with us.
Good value for money
Kokoda is not a "cheap" holiday, and nor should it be – nearly everything should be included during your trek, including accommodation before and after your trek, all of your meals during your trekking days along the Kokoda Track and much of your camping equipment.
We are one of the best value companies on the Kokoda Track. Not only do we provide a trek only option, starting from
$3,895pp from Port Moresby
, but also excellent value packages from
Brisbane
,
Sydney
and
Cairns
. We are a
fully accredited ATAS travel agency
with a dedicated trekking division and can take care of all of your travel arrangements, no matter where you originate from, keeping the booking process seamless. Our
personal guides
are the best value along the Kokoda Track. This is because we don't profit when trekkers book a personal guide.