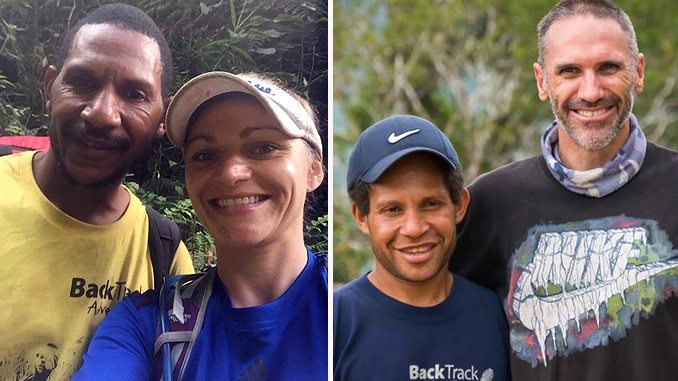 For an additional fee, you can obtain the services of a Personal Guide who will carry all your gear on the Track in a backpack provided by us.
Personal Guide fee is $640 for our 9-day trekking, 11-day itinerary, and $590 for our 7-day trekking, 9-day itinerary.
We strongly recommend this service if you are unsure of your ability to carry a heavy 15kg backpack over steep and uneven terrain in uncertain weather conditions.

By hiring a personal guide you are providing good-paying work to a grateful villager and you will only have to carry a small day pack with your water and daily needs. Your day pack will only weigh 3-5kgs max.
Remember, this is a holiday as well as a physical and mental challenge. Putting too much pressure on yourself by attempting to carry a heavy pack without pack carrying fitness or experience may seriously detract from your enjoyment.

Thinking about carrying your own pack while trekking Kokoda?
The Pros
The achievement factor – doing it tough like the diggers
Possible increase in your level of fitness by the end of the trek
The Cons
Be fit; be very very fit. Train hard to get results. Have you got the time and inclination to do this ?
Consider the following scenario: The trek is well underway, your pack is too heavy; you're not enjoying it. You begin to even hate it. Your Kokoda experience has turned decidedly sour.
Thinking about hiring a Personal Guide while trekking Kokoda?
The Pros
The trek isn't easy. But it's a hell of a lot easier with a personal guide.
You'll have a great trekking companion who is there to support you.
The Cons
Back Track has a great ground crew of local guides that support us along the Track.  Read more about our Head Guides and trekking crew.
Note: if you hire a Personal Guide you still must train as intensively as if you were carrying all your own gear. The fitter you are the more you will enjoy the experience. Even with a Personal Guide, the trek is physically and mentally challenging.