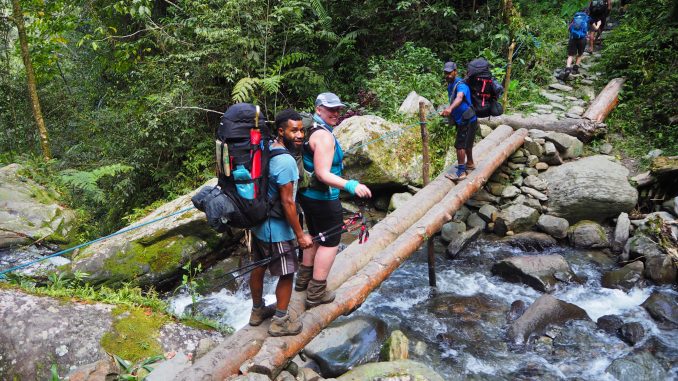 By Anna Cochrane – Team 16, 2018
In November of 2016, I decided to set the goal of doing one of, if not the hardest, jungle treks in the world! This set me on a path of training, training and more training. All the feedback I had from friends or workmates, who knew someone that had completed Kokoda, was 'walk up steps, so many steps, and then if you think you've done enough, you can do more!'. On the 3rd of September 2018, I confidently jumped on the plane and flew across to Port Moresby.
Meeting the team at the airport it suddenly became so very real. From Andy who gathered us all up as we came out of customs, to meeting our trek leader Damian and then us, 16 excited and nervous trekkers from across Australia, PNG and USA. It was then that the nerves gave way to pure excitement at the thought of spending the next 9 days and 8 nights with this wonderful cross section of people, and we quickly realised that we were all bonded by a common purpose that brought us to trek Kokoda.
To kick things off, we had a team briefing post dinner and then packed our packs ready for the 4am drop off the next day. After our 'last sleep' for 8 nights, the alarm went off and 3:30am had rolled around way too fast and before we knew it we were back on the bus and back to the airport for a 6:30am flight across to Popondetta.
As we flew across, we quietly looked out the window at the Owen Stanley Ranges beneath us. I couldn't help but think 'Woah this is crazy, we are going to walk back over here!' and I was awestruck at the beauty of the mountains below, the patterns of the palm oil plantations and the misty moody clouds. Suddenly we were landing and in the back of the truck for a fun ride to Kokoda (not before we all made sure our pack had made it!).
In Kokoda we walked through the museum, signed the visitor book and got a feel for where the soldiers were dug in as they fought the Japanese, before we were pushed back down the track in the direction we were about to walk.
I was glad I had decided to go North to South, as this was a great way to acclimatise and get the body ready for the days ahead. Over dinner Damian briefed us on the following day, which made me a tad anxious about what was ahead and as we fell asleep to the sound of cicadas, the flowing river and the team singing beautiful hymns, I'm sure we dreamt that it was worse than what it was.
The next day, we stirred around 4:30 am, and packed our packs to be ready for breakfast. The boys packed down the tents before the sun was even up and we 'hit the road', so to speak. Our days were full on, with tough uphills, demanding downhills, confidence building river crossings and building trust with our porter in a very short amount of time as we navigated every careful foot placement or hand hold and so grateful to have trekking poles.
Each step was considered and concentration had never been so important. If you let your mind wander, the track would teach you a lesson. This happened to me a few times, though thankfully I wasn't injured. The beauty and ever changing scenery around you demanded control and also asked you to stop and appreciate where you were.
We looked at where the soldiers fought, and wondered just how they did it with the heavy equipment, lack of supplies and medication. It was so hard to fathom. Here we were with the medication, clothing, boots and the ability to pay if the worst was to happen and we needed airlifted out. We knew we would get 3 meals a day and could purify our water. I know that the soldiers in WWII had none of this luxury, heck they didn't even have the right coloured uniforms. Even walking across the track today still gives you a very real insight into what these brave men went through to protect Australia and ensure PNG didn't fall to the Japanese.
Our days were filled with new experiences as we walked, talked, and ate our way across the track. We started the days wondering how we could ever climb 9 false peaks or survive a 700m downhill, only to do it again and again, and we supported each other in achieving each goal. As we got to each rest or lunch stop, then into camp, there was a sense of accomplishment and knowing that we could do this and we were doing it.
Don't get me wrong, it was hard, so very very hard! It was made harder by the heat, humidity and the rain, but that is what we knew we were signing up for. As an example of experiences on the track, on the Friday we started the day with sunshine and then spent the afternoon with an intense thunderstorm and torrential rain from 2pm until 6pm. After lunch, on our push to Naduri, we walked an hour and a half down a mountain that could only be described as a 'clay river', to then be greeted by a stunning full pink sky sunset as we came into Naduri. My favourite memory of this day was amongst the intense concentration and doing everything Simeon told me, we would sing hymns together as we walked in the rain and we loved every minute of it.
Now enough about walking the Track… what I wasn't prepared for was to fall in love with the Koirari people! Spending the Sabbath in Naduri was a highlight and we felt so welcomed as we spent time in the village and rested alongside our team. We did laundry, dried our boots, laughed our way through yoga in the medical centre and in my case, cried my way through church. It was simply perfect and I couldn't imagine not having this day and respecting, not only our teams beliefs, but also the beliefs of the village we were staying in.
The track will give you as much as you want to receive. It will teach you lessons, it will be in your thoughts, dreams, and very core of your being, long past finishing. My best advice is, prepare for the unknown with your fitness, both mentally and physically, and know that at the end you will long to go back. Talking with a lot of our Kokoda teammates post coming back so many have said to me "Anna no one understands what we did" followed by "I want to (or I will) go back!"
Enjoy Anna's writing style or want to read more about her experience with Kokoda? Visit her blog here.