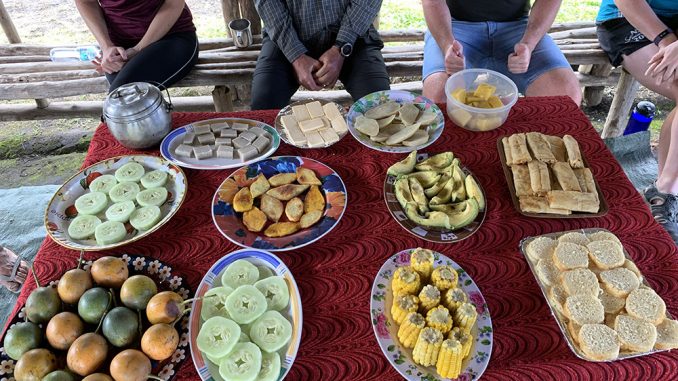 Well fed trekkers are happy trekkers. We provide good quality nourishing meals each day on the Track. We also supply the cutlery, plates and cups etc.
A typical menu
Breakfast is tea/coffee/milo, porridge and Weetbix or Cornflakes with powdered milk, plus damper and banana fritters whenever possible. (Peanut paste, jam and vegemite is available when hot fresh damper is served)
Lunch is noodles, mountain bread, salada biscuits, cheese, salami, tuna, and fruit with tea/coffee.
Dinner is freshly prepared by your Team Cook and includes a variety of meat and vegetarian meals. Meals include:
Soup;
Pasta with mince or vegetable sauce;
Fried rice;
Vegetable curry and rice;
Country casserole with pilaf rice;
Popcorn;
Prawn crackers; and,
Pappadums.
Dessert is chocolate Tim Tams or sweet biscuits served with tea and coffee. Our cooks occasionally can bake a cake, especially if there is a birthday in the Team.
Spreads: We carry peanut paste, honey, strawberry jam, marmalade and vegemite.
Condiments: We carry mustard, sweet chilli sauce, ketchup, chutney, pickles, parmesan cheese and soy sauce.
Local food items : potatoes, sweet potatoes and yams are purchased, when available, to compliment our dinner menu.
Fresh fruit: though it is reasonable to believe that fresh fruit should be readily available in such good growing conditions, on some treks we discover that we are unable to purchase fresh fruit on a consistent basis. Fruit sometimes available include bananas, mandarins and occasionally pineapple and passionfruit. Wherever we encounter fruit for sale, your Trek Leader and Head Guide have been instructed to purchase these items for group consumption. If during the course of a days trek, you arrive in a village first with the vanguard of your Team and fruit items are available to be purchased, you are encouraged to purchase items for your own consumption. This should only prove to be a minor cost and you will be advised to budget for such small purchases in your pre departure information guide. It is recommended that you have small kina notes to pay for any of these small personal purchases along the way.
Your trek crew will purchase supplies for the whole group when they arrive. As a company we are aware that the sale of fruit and vegetables and items such as eggs to trekking groups sometimes force prices up for the same items for the local people. We try to purchase quantities at prices we believe will not be of detriment to the local consumers.
Bring your favourite munchies: In addition to breakfast, lunch and dinner supplied, we strongly recommend that you bring your favourite  snack items along on the trek.  Allow for 2 munchie bars, some lollies, gatorade or similar for each trek day,
Soft drinks: In some villages, Coke and Fanta are available.  Soft drinks sell from 5 -7 kina per can.
Twisties: Heavily salted packets of cheese twisties are also sometimes available in villages for a few kina per packet.
Please note: all meals are prepared on open camp fires and all food stuffs are carried by your trek support crew.